Your new content creation workflow
Insert a new block from block gallery or create your own block using one of available wizards.
Edit your content with full control on the structure, insert widgets, upload or browse images.
Create your own block template based on the block you have in your editor. N1ED will automatically create its screenshot. You can edit block again and again updating your template when you need.
And all these features are easily configurable via configuration panel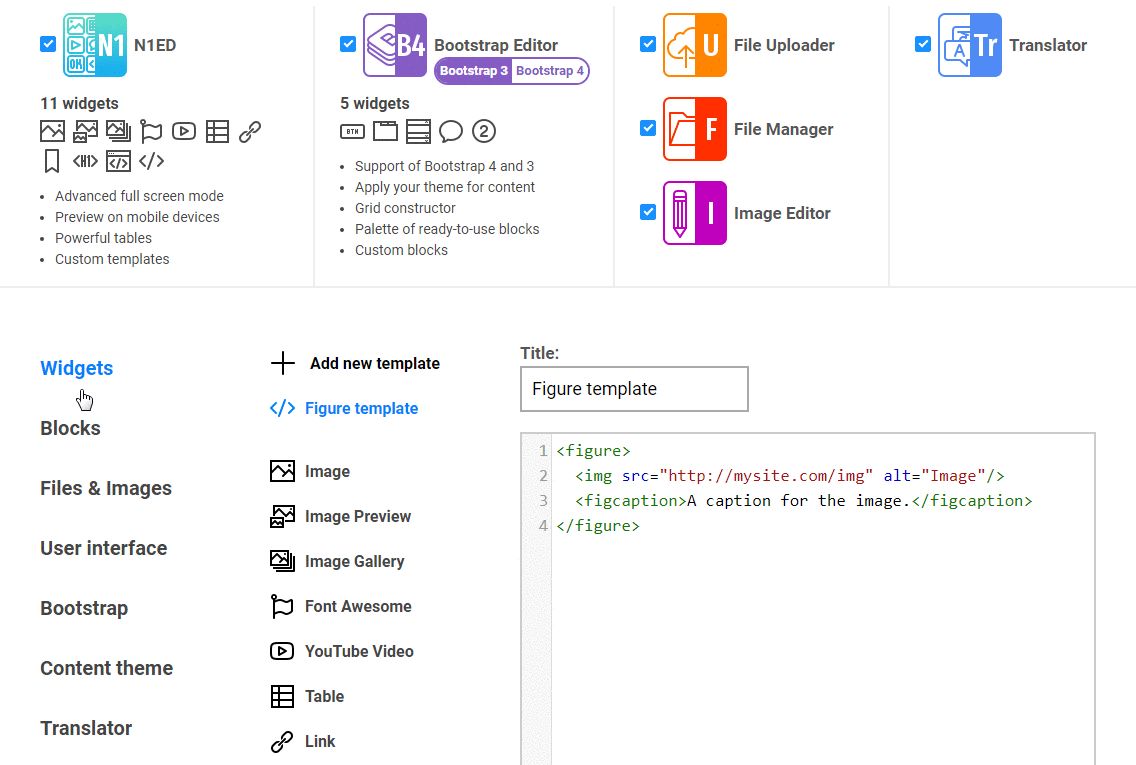 How to integrate N1ED in your CMS or framework
N1ED can be smoothly and easily integrated into your CMS or framework, even if you use something custom or self-made. We will share our experience of deploying N1ED on web studios' websites and installing it on cloud website builders.
Free consultation
Install plugin for TinyMCE or CKEditor
Fast upgrading your existing editor with plugin you can download and use for free.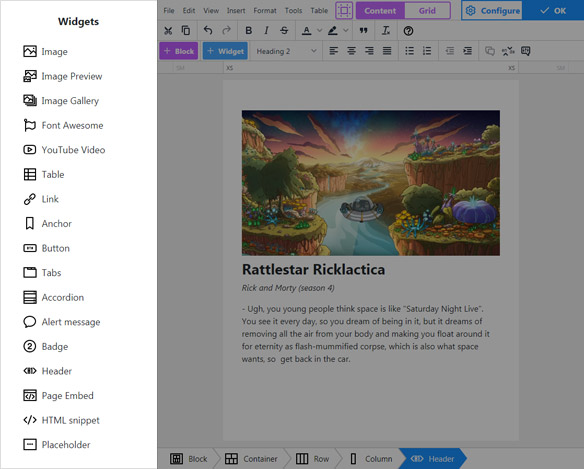 Install editor from the scratch
Use our CDN to install both TinyMCE or CKEditor and N1ED plugin. This is the easiest way to build editor in a new project.
<

div

 

id

=

"editor"

></

div

>
<

script

 

type

=

"text/javascript"

>
    window.onEditorLoaded = function() {
        tinymce.init({selector: "#editor"});
    }
</

script

>
<

script

 

type

=

"text/javascript"


        

src

=

"https://cloud.n1ed.com/cdn/N1EDDFLT/n1tinymce.js"

></

script

>
---
Special integrations
React
NPM package for your React app. JavaScript and TypeScript.
Learn more»

Drupal 8
Drupal 8 module for "next-next-finish" N1ED installing.
Learn more»

Joomla 3
Joomla 3 extension for N1ED installing.
Learn more»
Install N1ED on your website
Download and install N1ED with help of the installation wizard in 5 min and get powerful editor with auto updates and visual control panel.
Install now
Documentation
Full documentation set for installing and configuring N1ED and other plugins for CKEditor and TinyMCE
Learn
Like, share
Tell to your friend developer about N1ED
Share
Tweet
Send
Share
Send