Configure N1ED visually
No more editing text config files of CKEditor or TinyMCE. N1ED offers a new way of configuring your editor. It lets you edit settings visually: turn on and off all the plugins, style widgets, enable and configure Bootstrap framework and much more.
3 ways to configure N1ED
N1ED have a configuration editor available in 3 different places:
Configure button in N1ED itself
Dashboard on the official website
CMS configuration page (optionally)
Editing configuration by any of these ways has almost no difference and you can use any way you prefer.
Configure N1ED right from N1ED
Please look at the right top corner of your editor and press button «Configure». The first time you click it, you will probably set an API key and confirm access to an account if you did not do this before (or your CMS did not do this).
The configuration editor will be opened. You can edit any options and save the configuration. Some of options (like custom Bootstrap blocks) will apply at the same moment, some will require restarting editor (save your content before you refresh a page).
Configure N1ED from your Dashboard
You have an account on N1ED.com so you can log in and edit the settings addressed by specific API key (or any other API keys if you use multiple N1ED integrations).
Any changes you do here will be applied to N1ED when it is loaded next time.
CMS configuration page
N1ED has perfect integrations with some popular CMSs (like Drupal 8, Drupal 9 and Joomla 3). They additionally just for your comfort offer absolutely the same configuration widget integrated on standard configuration page outside of N1ED itself.
If you are Studio or Enterprise plan user we will provide the required documentation and help to integrate it with your CMS too if you need it.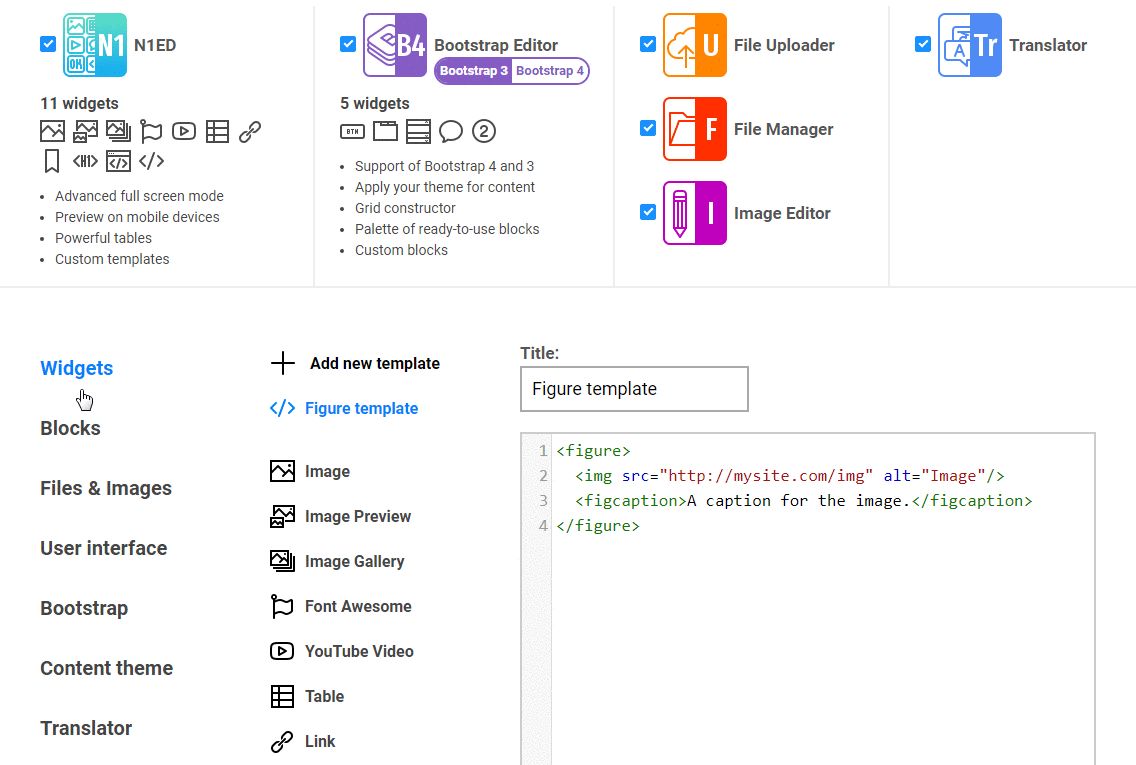 Add plugins
The top block of the N1ED configuration editor is the block with the list of plugins available. These are CKEditor/TinyMCE add-ons which run on the N1ED ecosystem platform and you can enable or disable them as you wish.
In most of the cases you will keep the plugin list as is doing no changes. This will let you the full power of N1ED provides with help of its add-ons.
For example, if your website has Bootstrap support you might want to enable Bootstrap Editor and set the version of its framework.
Another case some users sometimes choose is using files and images tools without N1ED itself. They uncheck all the options except «File Uploader», «File Manager» and «Image Editor» and use file manager and image editor with their website storage. This configuration can be reached using anyway to configure except directly from N1ED itself: it does let you disable it from itself.
Change preferences
All other settings listed below can be changed to fit your needs. The most popular here is managing widgets list, including own templates and Bootstrap blocks.
Change the other settings wisely to avoid incorrect configuration. Despite they all are easy to understand for web developer, sometime you need help if miss some features or have some differences from expected behavior. Our support team will be happy to answer, just ask support.