Multisite integration
N1ED is a cloud editor, this means it loads and stores its configuration on the cloud until you redefine this. The configuration management in N1ED is pretty flexible and you can both configure a single editor and tune multi-level access rights.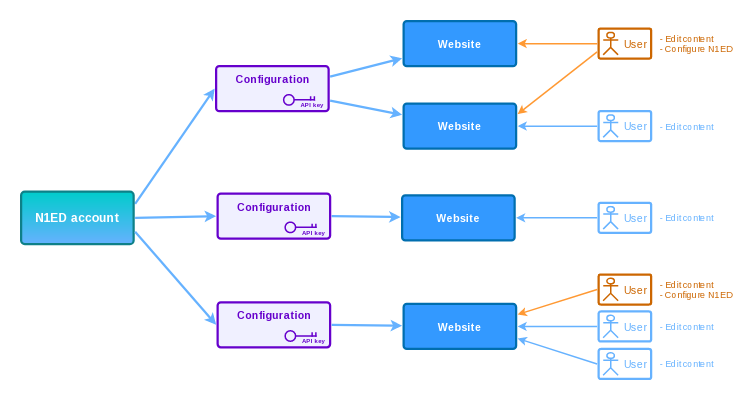 Configurations and API keys
The main term here is configuration. This is a set of parameters that describes your settings. They are default at the start and later you can edit them. All your settings you change, your custom templates, and Bootstrap blocks are stored into your configuration on the cloud.
Each configuration has an API key and can be addressed by it. When you load N1ED you type API key only and configuration is loaded automatically. The way to set API key depends on your integration type:
When you load N1ED as a snippet, you set an API key in the URL of the snippet.
When you use CKEditor or TinyMCE plugin, you set

apiKey

key in config.
React component has special

apiKey

property.
Drupal and Joomla integrations allow you to set an API key in a visual way.
Manage access to N1ED among different websites
When you have a number of websites you probably need to have independent editor configurations for each of them. This is possible for anyone who uses N1ED: you create a new configuration and use its API key on a new website.
As an owner of the N1ED account you can manage all your configurations by logging into your personal Dashboard. Any configuration with any API key can be changed. Some single configuration can be changed from N1ED itself too but requires a password to validate access (default behavior).
But when you have a number of websites (which belong to your different clients, or used by your different editor teams or managers) you can not just give a password to anyone. There is a better solution in N1ED.
In order to let somebody use editor, edit its configuration, add new templates and blocks, use online services you do not need to give them a password. Just obtain an access token for CMS they use and N1ED will use this token to make requests to the cloud. If you use Drupal 8, Drupal 9, or Joomla 3, these CMS will get and an access token and save it automatically when you save configuration first time: CMS will ask your password only once and save the token to the database. This token will be passed to N1ED transparently (depending of the user's role).
So each of your websites will have personal access token stored into a database or file. All configurations will be isolated and edited independently. This is useful for:
Website builders
Web studios
Freelancers with multiple clients
Multiple websites owners
Drupal and Joomla already contain this configuration panel well integrated. If you use your custom CMS we will provide you tools for integration into your control panel and will help you to do it. These components consist of configuration widget which can help you manage both configuration of N1ED and access token.
Managing rights between the team
Now let's go forward and configure access to N1ED and its configuration in the team who manage website content.
There is a list of different users: website visitors, content editors, chief editors, website administrators. Some of them have rights to load N1ED (at least content editors), some - to edit configurations, i. e. to manage templates.
Popular CMS like Drupal or Joomla already have multitier access rights and the N1ED module will use this system to understand who has which access rights.
N1ED permissions in Drupal
N1ED already has a preconfigured access rights system based on Drupal roles and permissions. N1ED will:
Add the "Configure" button and let changing configuration, adding custom templates and blocks only for those users who have rights Change N1ED

configuration

.
Allow to upload and manage files and images for users with Manage files

and

images permission set. These settings in Drupal can be found on the Administration → People → Permissions page. By default only admin all these rights and you can grant access to other user roles.
In case of your own CMS or custom framework you can run N1ED with or without preconfigured access token depending on your own criteria you filter users by. The same tools as in the first part of this article are used for that.
Deep integration into your custom CMS or framework
All the documentation about how to implement this on your own CMS is provided by our team to all Studio plan or Enterprise users.
Get a quote